CABLETECH® Rope Systems is a premium-quality, custom-manufactured product that is highly compatible with creative contemporary architecture.

Due to the continuous evolution we can flexibly react to the individual requirements of architects and new building technologies. For example, double-step Anchoring System with complete interruption of the thermal bridge, modular compensation elements to guarantee the maximum force in the rope structures or Flexible Net Technology for spatial structures.

CABLETECH® Rope Systems is ideal for complex, variable and aesthetic solutions and have the potential to satisfy a wide variety of requirements.
Our specialization
Greening systems
Protective and separation nets
Balustrade infills
Suspensions systems
Design structures


Examples of applications
Greening systems for exterior: parking buildings, industrial halls, logistics centers, business centers; spatial structures, green facades, pergolas, fences, walls, etc.
Greening systems for interior: atriums, foyers, lobbies, offices, interior spatial structures, interior vegetation walls, etc.
Safety nets for stairways, fanlights, french windows, etc.
Separation nets and barriers to define space, land, etc.
Nets for transparent zoo enclosures (cages, aviaries) of every imaginable form
Ball catch nets
Fall protection for helipads
Anti-hurricane nets
Decoration nets
Cable or net balustrade infills (for stairways, terraces, French style windows, skylights, etc.)
Carriers for hanging advertising elements, sails, etc.
Exhibition and rack systems
Anti-noise structures
Decorative cladding for buildings
Supporting and suspension structures
Wind bracings
Design structures used as Plant Training Systems lighting
Observation towers and escape staircase
Sky-bridges and sky-footways
Spatial art decoration object for Architecture
What we offer
Professional design
The author of all components and assemblies is a National Architecture and Design Awards winner.
Limitless lifespan
The bulk of the components are made of A4 grade stainless steel.
Unbeatable price
With our own unique production technology and individual approach to every customer, we always try to achieve the optimum balance between quality and price.
Technical support of the architect
In case of more complex project we offer a support of the architect.
CABLETECH® scope of supply
Optimized solutions
Manufacturing and delivery of selected components including or excluding instalation
Architectional project
Static analysis
The realisation of intelligent and innovative ideas demands a creative partnership of various experts. We know how to optimize project in Cooperation with all parties in the creative process (investor, project's author, constructor, construction manager, or locksmith company).



Count on the proactive support of CABLETECH® in developing innovative solutions – from planning phase to turnkey on-site assembly of our products.

Guaranteed stability of our nets
The weave is made of fine and resistants stainless steel ropes which are characterised by a high load capacity and a low self-weight.
CABLETECH® nets endurance testing results

CABLETECH® net was subjected to numerous tests and complies with all applicable standards: As a permanent protective and safety net for bridges or observation platforms, it is absolutely UV and weather resistant.
Our reference projects
You are invited to take inspiration from the following countless successfully implemented reference projects.
Featured reference projects
New footbridges for KRNAP from the students' workshop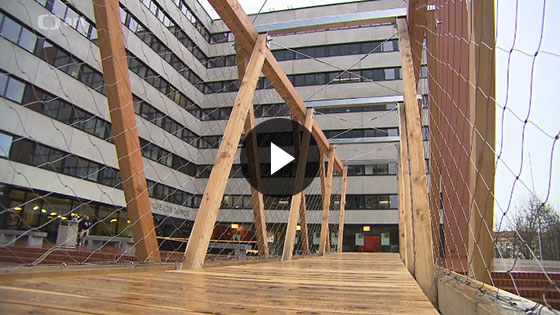 Lucerna's roof turned into a green meadow

Jablonec nad Nisou – Single-storey house on a slope

Treetop with tree crowns – Bachledova Valley

New building on Národní třída

Prague, CSOB Radlicka – trellage systems for the bank
Prague, Hanspaulka – greening systems for a circullar house
Prague, Vysocany – fire escape stairways cladding (ORCO)
Finland, Net infills for the footbridge over the river
Germany, Neuschonau – protective nets for a Tree top walk
Prague, Ocelarska footbridge (bikepath) – protective nets
Moscow, Telekom City – trellage systems
Serbia, Belgrade, Family house "Wave" – Decorative 3D
Bratislava, Digital Park II, Penta – trellage & railing systems
Humpolec, Hranipex – trellage nets for the warehouse
Caslav, Less – interior and exterior greening systems
Zlin, Cultural and Information Centre – 3D decoration nets
Prague, Glass and ceramics laboratories – protective nets
Prague, Parking building Telefonica O2 – exterior nets
Prague, Petrske namesti, interior and exterior protective nets
Brno, Villa Tugendhat, UNESCO monument – trellage systems
Brno, JAMU (UNISTAV, OHLZS) – cable trellage systems
Prague, Pruhonice, Alzheimer centrum – aviary for birds
Hluboka nad Vltavou, ZOO Ohrada – bird pavilion
Mlada Boleslav, Skoda car manufacturer – trellage system I.
Brno, ZOO – aviary for owls pavilion
Semily, Footbridge over the Jizera river – balustrade infills
Prague, Cortex offices building
Prague, Villa Verde – trellage systems (Hinton)
Prague, Apartment block Na Radosti – trellage systems (BAK)
Lipno, Tree Top walk (direct cooperation with an investor)
Praha – Petrské náměstí, interierové a exterierové sítě
Austria, Heidenreichstein – ballustrade infills
Prague, Office buildings for Seznam.cz, Krizik Palace
Trebic, Protective nets for a lookout tower (Vitkovice eng.)
Plzen, ZSS (ABADIA)
Prague, Chuchle elementary school – shading systems
Prague, Apartment block V Mezihori – trellage systems (BAK)
Brno, Caitec – greening systems (Konsit)
Ladna, cemetary fence
Olomouc, ZOO enclosures
Prague, Luziny business center (Syner)
Susice, Swimming pool – net protection systems (Hochtieff)
Prague, Greening systems for church building (Passerinvest)
Prague, Kotva shopping mall – sliding fence on the terrace
Prague, Hotel Maximilian
Prague, Drahobejlova Family house – trellage systems
Brno, Greening systems for parking house
Susice, Footbridge over the Rousarka river (Hochtieff)
Prague, Family house Nad Sarkou – trellage systems
Ostrava, Privoz – revitalization of the train station
Mlada Boleslav – trellage systems for AUTOSKODA
Maledivy, Oceania – protective nets in the child's playground
Bratislava, Digitalpark III (Penta) – cable greening systems
Prague, Main Point Karlin – 3D decorative design structures
Chomutov, Chomutovka Business Center – 3D structures
Prague, Blanka tunnel – trellage nets for the tunnel outlets
Ceske Budejovice, trellage systems for UNICREDIT Bank
Tachov, Protective nets for the lookout tower (Strabag)
The future is green
Green facades are an expression of a responsible contact with nature, it enriches our daily living environment. With CABLETECH® Greening systems greenery can be taken to our cities.



The latest insights on climbing plants combined with tastefully designed and technically sophisticated green training systems open a treasure chest of greening variations and styles.
Greening makes sense even from a construction physics point of view and has many ecological benefits. The future is indeed green: it will be shaped by the creative collaboration of innovation-driven architects with greening specialists, among them in place of honor, undoubtedly, CABLETECH® company.
Unique technology of greening